Day 1: YOUR EXCITING JOURNEY BEGINS
in Los Angeles (LAX) as you board your afternoon flight to Lima, Peru.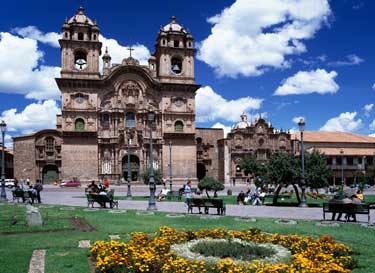 The historic Plaza de Armas, Lima
Day 2: LIMA.
Welcome to the capital of Peru! Be met at Lima's airport by A.C.T. representatives and transfer to your hotel. Rest of the day at leisure. HOTEL JOSE ANTONIO (or similar)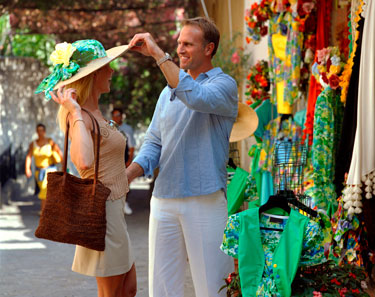 Shopping in Lima
Day 3: LIMA.
Get acquainted with 2000-year-old Lima on today's comprehensive sightseeing tour, focusing on the city's colonial heritage. Visit Lima's Historical Center, including the Plaza de Armas to see the Government Palace and the Cathedral, where the remains of Francisco Pizarro, founder of Lima, are sealed in a wooden coffin. (B)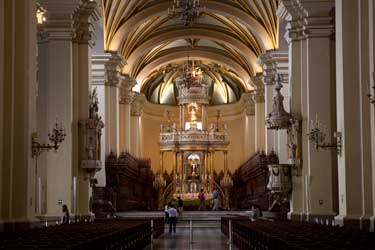 The glorious Cathedral
Day 4: LIMA/CUZCO/SACRED VALLEY.
This morning, transfer to the airport for a flight over the Andes Mountains to Cuzco, one-time capital city of the Inca Empire. On arrival, tour the city and ruins that Patricia Schultz, in her best-selling book, 1,000 Places to See Before You Die, describes as the "archaeological capital of the Americas." Afterward, descend into Peru's lush Sacred Valley and check into your hotel. POSADA DEL INCA YUCAY (or similar) (B)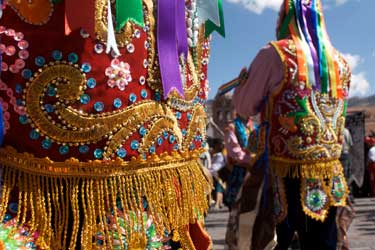 Exotic Cuzco
Day 5: PISAC/OLLANTAYTAMBO
Today's highlights include a visit to the colorful Pisac Market and to Ollantaytambo, the oldest continuously-occupied settlement in the Americas. Lunch at a local restaurant. (B,L)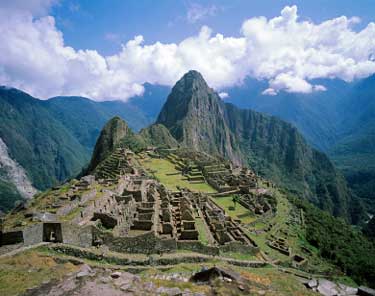 Mysterious Machu Picchu
Day 6: MACHU PICCHU.
Depart this morning on a two-hour train ride to Machu Picchu, a UNESCO World Heritage Site, aka "The Lost City of the Incas." Truly a wonder of the world, Machu Picchu, which means "old mountain," was only discovered in 1911. This self-contained city consists of over 200 buildings and is practically inaccessible and unnoticeable from the valley below. Return to Cuzco by train in the evening and transfer to your hotel for overnight. (B,L)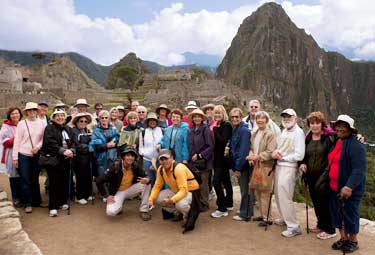 Happy A.C.T. travellers
Day 7: CUZCO/PUNO.
Transfer by bus along the dramatic highland plateau, past tiny Andean villages and herds of llamas and vicunas, stopping in the historical towns of Andahuayillas, Raqchi, and Wiracocha. Before arriving in Puno, visit the archaeological site of Pukara (200BC-AD300). Lunch at a restaurant en route. JOSE ANTONIO PUNO HOTEL (B,L)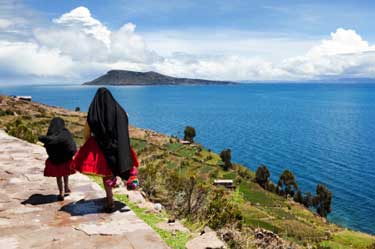 Day 8: PUNO/LAKE TITICACA.
Enjoy a complete day of sailing on Lake Titicaca. Depart early in the morning for the floating islands of Uros, where the inhabitants still live as they did centuries ago, on floating islands they make with the totora reeds that grow on the lake. Continue sailing toward Taquile Island for a 30-minute hike toward its small town inhabited by Quechua speaking natives who have, over the generations, developed both an efficient and original social system as well as a refined hand weaving technique. Lunch will be served in a local house that serves as a restaurant. After lunch, we will explore the island and you can appreciate the magnificent views of Lake Titicaca. (B,L)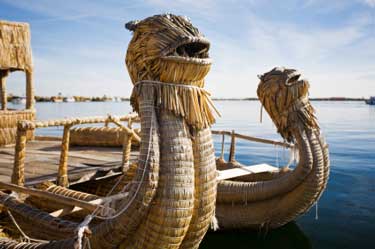 Day 9: PUNO/LIMA
Morning and afternoon at leisure. Evening transfer to Juliaca Airport, visiting en route the "Cullpas" of Sillustani, where the ancient Aymaras used to bury their high priests in cylinder-shaped tombs. Depart for Lima, where you will connect and fly back to the U.S. (B)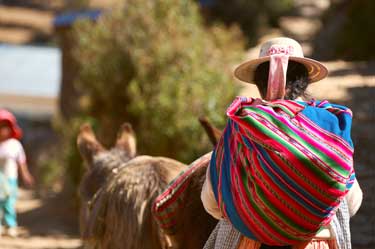 The colors of Peru!
Day 10: LAX
Depart Lima shortly after midnight and arrive in Los Angeles at approximately 8:00 a.m. the same day.
END YOUR TOUR WITH A LODGE STAY ON THE MIGHTY AMAZON RIVER! DETAILS ON OUR RESERVATION SHEET
Note: While A.C.T. tries to keep physical activity in the Andes Mountains at a minimum, be aware that Cuzco's elevation is 11,200 feet, and Lake Titicaca's is 12,500 feet. Machu Picchu is only 7,800 ft.